The Lydia House Mentorship Program & Mentee Make-Overs
In our continuing effort to talk about the inspirational women of Finding Something More™ in the 2020 Year of Inspiration Women series, we cannot possibly forget the incredible work and impact of our Lydia House Mentorship program. In 2017, the Finding Something More™ Mentorship Program with the Lydia House began. A relationship that has grown and changed the lives of women through mentorship.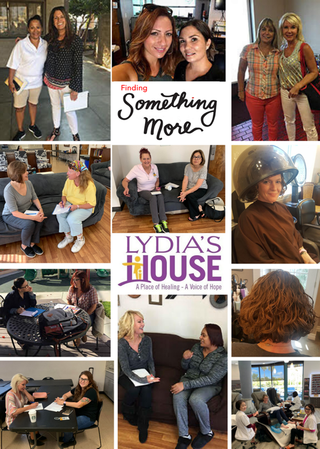 Mentor is a trusted counselor or guide who coaches, counsels, guides, leads, shepherds, shows, and tutors others.
These are powerful words and actions followed by a strong commitment of Finding Something More™ to work with the women at Lydia House. 
This week we want you all to revisit this incredible program and share in some of its special moments. It is a powerful program that impacted both the women of Lydia House but also the mentors from FSM.
The Lydia House, an extension of The Long Beach Rescue Mission, is a 50-bed facility that provides solace and hope, for women and their children, in the face of abuse, addiction, financial hardship, and abandonment. It is not an emergency facility but one that works with women to find permanent solutions, housing, and care so that they may create a better life for themselves.
It is for this reason that the mentorship program with FSM is so powerful.
"My desire is to help people reach significance and personal success through adding value to the lives of others," Nancy Rench said of her mentorship program.
Every small action that the women in FSM take to help and counsel the women living at the Lydia House plants the seeds for them to become something more.
The Power of Make-Overs
A powerful aspect of change, especially when mentoring someone who has faced incredible turmoil and obstacles, is how we feel about how we look. No, it is not superficial to want to look our best; in fact, looking our best goes hand-in-hand with making difficult changes in our life. For this reason, Nancy Rench figured out a solution. A couple of times a year, she chooses one or two of the women from the Lydia House program. Nancy plans a complete make-over to help these ladies feel good, but also to give them something 'physical' they can see alongside all the internal personal changes that they are making in their lives.
Sarah Floyd of Lydia House needs just that kind of change! A trip to the nail salon to be pampered with a manicure and pedicure. Nothing quite like relaxing in a comfortable chair with your feet soaking in warm water, am I right? Well, once that pampering was complete, Sarah headed over to have her hair highlighted and cut. It was a fantastic moment to have Sarah look in the mirror. Looking at her new hairstyle, she could see the growth and change — on the outside– along with all that she had changed on inside too. Beauty is truly in the eye of the beholder, and each one of us needs to look in the mirror and see that we all are beautiful in our own unique ways. Sometimes that requires a little hair color and nail polish, but as we all know, beauty radiates from the inside of us!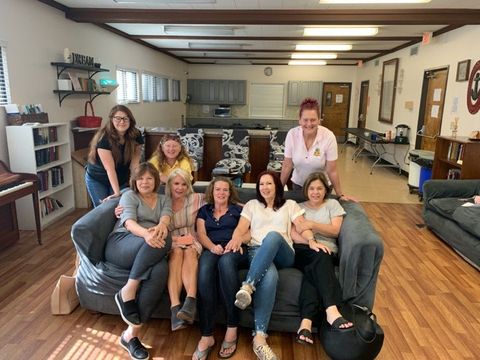 Our program at the Lydia House has been rewarding and life changing for all of us involved in it. Giving to others is a gift to ourselves too.
Let's celebrate this incredible mentorship program and continue to grow it and impact the lives of more women in 2020!